Come and meet Guru Rajesh Ananda and Yogini Jasmini Ananda in Copenhagen in June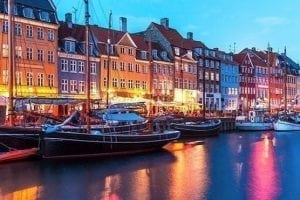 We are delighted to announce that Rajesh and Jasmini will come to Denmark twice in 2015, firstly in June and then again in September.
There will be two public talks on Saturday, 13th June (with free entry) one at 11.00 and then the other one at 15.00.
Public Talks
Date: Saturday, 13th June 2015
Times: 11.00 & 15.00
Venue:  "Kulturhuset Indre By" – Charlotte Ammundsen Plads 3, Copenhagen. K
Public Transport:  Charlotte Ammundsen Plads is a small side street to Nansensgade (toward Peblingesøen). Nansensgade goes between Gyldenløvesgade and Frederiksborggade. Nearest S-Train station and Metro station is Nørreport Station (about 650 meters from here).
This is an extraordinary opportunity for everyone to experience not only one, but two Gurus. Two absolute experts in Meditation and the Spiritual Unfoldment of the Heart.
Those that have met Rajesh and Jasmini, will know how straightforward and uncomplicated they both are, so now is the chance demysstify the concept of a guru.
Invite your friends to meet with two true gurus of our time.
Additionally, for FISU Denmark Meditation there will be a Day Intensive Sunday the 14th of June. This will take place in Søborg and details will be announced soon.
Intensive Day with Meditation
https://www.fisu.org/meditation-courses/meditation-deepening-day-intensives/
……..Janujee & Chandrika – National Leaders – FISU Danmark
Post a Comment
You must be logged in to post a comment.